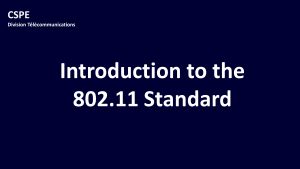 Training Description
Length: About 6 hours.
Objectives: By the end of this training session, the student will have a general understanding of the 802.11 standard and what is needed to deploy and support a Wi-Fi network. This session will allow you to undertake MikroTik's MTCNA and MTCWE classes with confidence. Furthermore, unless you have practical experience with Wi-Fi, it is strongly recommended that you take this class BEFORE attending MTCWE.
Target Audience : Engineers, technicians and anybody else:
Having to support a Wi-Fi network
Wanting to increase their Wi-Fi knowledge
Wanting to take MikroTik's official MTCNA and MTCWE classes
Course prerequisites: Understand the concepts of Wi-Fi networking.
Language: Shown next to the date in the "Training sessions" page.
Course outline:
Module 1 – History and standards
Module 2 – Radiation, antennas and Wi-Fi Math
Module 3 – Wi-Fi tools
Module 4 – Deploying Wi-Fi
Module 5 – Wi-Fi troubleshooting
Module 6 – Wi-Fi security